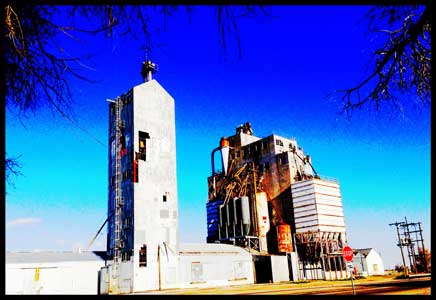 Where in the world is Ault?
If you blink as you drive north on Hwy 85, from Eaton, Colorado, you might miss this dot on the map, billed as "A Unique Little Town," covering a total area of 0.7 square miles (1.8 km2). Incorporated in 1904, it is also known as "Gateway to the Pawnee Grasslands." 
Ault sits directly on a railway line, (a rail runs through it) with vast farm lands stretching for miles around it. The main landmark is the tall grain elevator that appears to be out of use.
Although the town is tiny, it's well worth a stop to explore the antique stores that line the main street. On the day I visited, it was the middle of the week and the streets were quiet. We had the run of the place, and wandered through acres of antiques, marveling at the finds! One of the stores specializes in china and glassware, so the other granny Susan queried about some china she has stashed in a box somewhere. Next visit, we'll take the stashed china with us.
My favorite so far, is Jen's Antique Mall, (we didn't have time to visit all the stores). Located in an old (the whole street is old!) building, there are nooks and crannies to explore and an enormous assortment of stuff. I saw lots of old kitchenware and utensils, old toys, masses of salt and pepper shakers and other goodies that I didn't know were considered antiques as I used them when I was a kid! Hmmm.... makes you think!
Although we were too late to partake of the goodies at Gray's Cafe, (they close at 2pm) the cinnamon rolls are famous in this neck of the woods. Apparently they are huge! So next time we make the jaunt north to Ault, we'll plan on being there before they close, preferably for the also famous breakfast.
Jen's Antique Mall
220 1st St Ault, CO 80610 (970) 834-2877
JR's Antiques Etc.
(China and glassware) 213 1st St, Ault, CO 80610 (970) 834-2291
Antiques Whistle Stop LLC
213 1st St Ault, CO 80610 (970) 834-2198
200 1st St Ault, CO 80610 (970) 834-0741