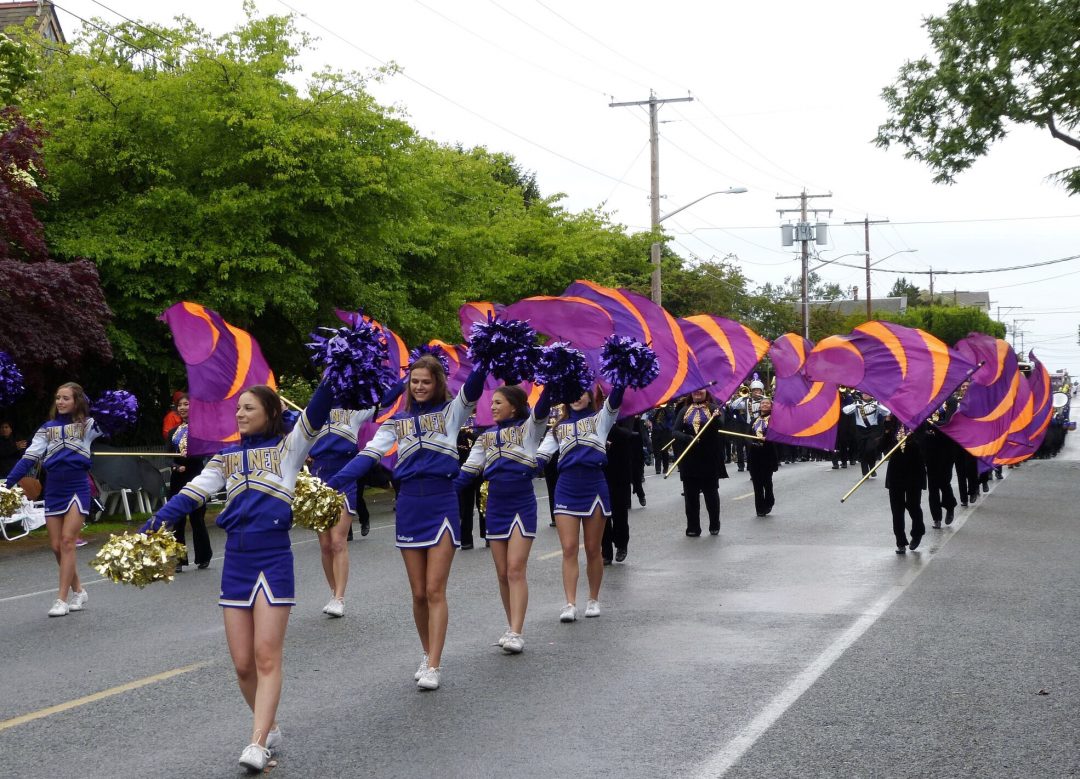 [et_pb_section admin_label="section"][et_pb_row admin_label="row"][et_pb_column type="4_4"][et_pb_image admin_label="Image" src="http://grannytravels.com/wp-content/uploads/2016/05/image.jpeg" show_in_lightbox="off" url_new_window="off" use_overlay="off" animation="left" sticky="off" align="left" force_fullwidth="off" always_center_on_mobile="on" use_border_color="off" border_color="#ffffff" border_style="solid"] [/et_pb_image][et_pb_text admin_label="Text" background_layout="light" text_orientation="left" use_border_color="off" border_color="#ffffff" border_style="solid"] Small-town America! What fun the Rhody Parade was this weekend. It's years since I made the effort to go and it was so worth it, despite the drizzle!
The Rhododendron Festival has been a huge event in Port Townsend for close to (if not this year) eighty years! With its Royalty, from tiny tots to octogenarians, pet parades and other community events, it starts the summer festival season. The Parade is the highlight Iin my opinion) with Lawrence Street uptown lined with chairs and place markers for hours before the around noon start!
This year I was one of the lucky ones, being invited to a party at a gorgeous house right on the route! So front row viewing positions for the event, which started off with big, burley guys on their Harley's clearing the street for the fire engines, police cars and too-man-to-mention local school marching bands. Present and past Royalty cruised the route in classic cars, decked out in tiaras and finery!
[su_youtube url="https://www.youtube.com/watch?v=gI7yDqUI6xc" width="760"]Of course, the kids along the route probably had more fun than anyone! Candy was being dispensed with abandon from the floats and parents gave up trying to monitor it! Many were fascinated, dancing and jiggling in time (kind of!) to the different rythyms emanating from the parade, and I can just imagine them going home, declaring that they are going to be a drummer/trumpeter/Pom-Pom girl (or boy) or the Rhody Queen riding the float in all her glory!
Every float and vehicle was decorated with rhododendrons in some way - and the marching bands had sprays of blossomed attached the instruments; trucks had garlands festooning the grills; classic car mirrors sported bunches ranging from our local "common" pale pink, to deep purples, many matching the paint colors of the cars! The theme was Rockin' Rhody so a very 50s theme prevailed, along with the rock and roll that blasted out from all the floats.
I am so glad I went - it made me want to go to more local events! After all, I can hardly be called Granny Travels if I don't get my sorry butt out there!
[/et_pb_text][et_pb_gallery admin_label="Gallery" fullwidth="on" show_title_and_caption="on" show_pagination="on" background_layout="light" auto="on" hover_overlay_color="rgba(255,255,255,0.9)" caption_all_caps="off" use_border_color="off" border_color="#ffffff" border_style="solid" gallery_ids="3619,3622,3624,3625,3626,3627,3628,3629,3630,3631,3632,3633,3634,3635,3636,3637,3638,3639,3640,3641,3642"] [/et_pb_gallery][et_pb_text admin_label="Form" global_module="3563" saved_tabs="all" background_layout="light" text_orientation="left" use_border_color="off" border_color="#ffffff" border_style="solid"] [/et_pb_text][/et_pb_column][/et_pb_row][/et_pb_section]